Work Ladders and OSHA Requirements in PA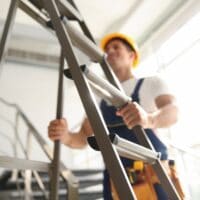 Slip and falls are one of the leading causes of injuries and fatalities in the workplace. In Pennsylvania, OSHA regulations along with state regulations are in place to ensure the safety of workers and all others who enter a construction site.
Pennsylvania product liability laws were put into place to ensure that products including ladders adhere to safety regulations by protecting against defective designs, defective manufacturing, and inadequate labels warning against potential hazards that may exist. In conjunction with Pennsylvania product liability laws, OSHA has regulations in place that ensure defective ladders are not used on worksites.
OSHA Regulations of Defective Ladders
When it comes to using a ladder in the workplace, OSHA regulations apply every time the ladder is used for construction purposes, alterations, repairs, painting, and any other work that might require you to use a ladder. OSHA regulations regarding ladders apply to a variety of industries but are primarily concentrated on the construction industry and remodeling jobs. These regulations do not apply, however, to self-employed individuals. According to OSHA regulations, work ladders must adhere to the following rules:
Portable ladders are deemed defective when they have a structural defect, a broken step or rail, or other defective components. A sign must be placed on the ladder detailing that it is broken, defective, or should not be used. These are all acceptable actions to inform workers and others that the ladder is out of service.
Ladders that are fixed to a certain location on a worksite and have structural defects or any other broken components must be withdrawn from service until they have been repaired. Placing a sign on the fixed ladder that says, "Do Not Use," or "No longer in Service," or any other similar language is enough to be considered as withdrawn from service.
When the ladder is repaired, the repair should restore the ladder to a condition that meets or exceeds its original design criteria. Only then can the ladder be returned for use in the workplace.
Additional Risks Associated with Ladders
Defective ladders are not the only reason a ladder might cause injury or even a fatality in the workplace. Along with a defective ladder, the following risks may lead to workplace injury because of a ladder.
Using a ladder on a slippery surface.
Using a ladder that has slippery steps or rungs.
A ladder with worn-out rungs or side rails.
Using a smaller size ladder than the job at hand requires.
Using a ladder inappropriately by way of not standing it according to the manufacturer's instructions.
Using a ladder that does not feature non-conductive side rails. This may increase the chances of someone accidentally being electrocuted if they are exposed to such equipment.
Not properly inspecting a ladder before using it.
Going above the ladder's maximum load capacity recommended by the manufacturer.
Under product liability laws in Pennsylvania, along with OSHA regulations, accidents due to ladder injuries may be prosecuted. Parties responsible for the injury vary depending on the circumstances. However, defendants can include a ladder manufacturer, contractors, subcontractors, and any other third parties directly involved with workplace safety in connection with ladder use.
Seeking Legal Representation
If you or someone you know has been injured on the job due to a ladder injury, you could be entitled to compensation. At Benedum Law, our dedicated team will fight for your right so that you receive the compensation you deserve. Contact us today to speak with someone who can help you navigate your case.