What to Do if You Notice Whiplash Injuries After a Car Accident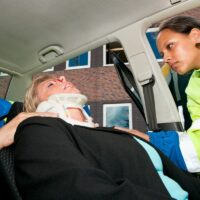 According to data collected from the Spine Research Institute, as many as three million whiplash injuries occur every year across the country. If you've been in a car accident, you might suffer from whiplash as well. Should you notice symptoms of whiplash after a car crash, there are important steps to take to protect your health and your rights. Read on for tips on what to do after identifying whiplash symptoms following a car accident. For advice and representation after a car crash in the greater Philadelphia area, call an experienced Chestnut Hill car accident attorney at Benedum Law for immediate assistance.
Watch Out for Symptoms of Whiplash
If you were in a car accident, even a low-speed "fender-bender," you could have whiplash. Whiplash is extremely common in car crashes, especially rear-end collisions, even at low speeds. In the hours, days, and even weeks following a car accident, watch out for symptoms of whiplash including:
Neck pain and stiffness
Shoulder pain
Lower back pain
Dizziness or vertigo
Pain or numbness in the arms or hands
Tinnitus or ringing in your ears
Blurry vision
Neurological issues such as trouble concentrating or remembering things
Trouble sleeping or being overly tired
Mood changes, such as irritability
See Your Doctor Immediately
If you identify any pain, weakness, numbness, or other symptoms in the hours or days after a car accident, see your doctor as soon as possible. It's generally a good idea to see a doctor shortly after a car crash even if you have not yet identified any injuries; you could have hidden, latent injuries such as internal bleeding, organ damage, or a concussion. Regardless, if you start to notice symptoms of whiplash in the next few days, it's important to get checked out.
The sooner you see a doctor, the more likely you are to connect your whiplash symptoms to your car accident. Your doctor can identify whether you have whiplash and prescribe you a course of treatment to avoid any further damage. If you wait too long, your injury could get worse, and insurance providers and defense attorneys may also try to argue that you were injured in some other event after your car crash. If you see a doctor soon after your accident, you have a much stronger claim that your whiplash was, indeed, caused by the traffic accident and you should be compensated accordingly.
Document Your Injuries
It's good practice to keep copies of any documents generated after a car crash. Keep copies of the police report, medical bills, medical records, communications with your employer about your injuries, and other documents. Take pictures of any visible injuries, the damage to the vehicles involved, and the surrounding area after the accident.
If you identify whiplash symptoms, talk to your doctor. Keep copies of any forms they give you or show you about your injuries, including test results and suggested treatments. If they tell you to avoid strenuous activities like sports or to limit your workload, take notes and keep copies of any notes they give you. If you find yourself unable to perform your daily activities because of pain, weakness, or other functional limitations, write these experiences down in a journal. That may help to either jog your recollection or even serve as evidence down the line.
Call a Personal Injury Lawyer
If you're suffering from whiplash or any other injury after a car accident caused by someone else's negligence, you could be entitled to substantial compensation. An experienced Philadelphia personal injury lawyer can help you maximize your recovery for the medical care you need and the compensation you are owed.
Call for Help Pursuing a Personal Injury Claim After a Philadelphia Auto Collision
If you have been injured in a car accident, a slip and fall, or any other incident caused by someone else's negligence in the greater Philadelphia area, please contact Benedum Law online or call 215-529-7848 (215-LAWSUIT) for a free consultation. Our dedicated Chestnut Hill law firm works to ensure you get the medical care and compensation you need and deserve after suffering an injury due to another party's negligence.