What to Do After a Sideswipe Collision?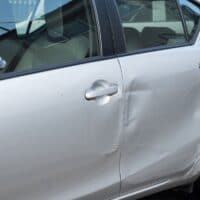 A sideswipe collision occurs when two cars traveling in the same direction collide, such that the right side of one vehicle hits the left side of the other vehicle. Often, sideswipe collisions occur when one vehicle drifts or swerves into the other lane at a time when it is not safe to do so. Typically, the driver of the car that left its lane is the driver responsible for the accident. If you are injured in a sideswipe collision, what should you do? Continue reading to learn about what to do after a sideswipe accident, and call a knowledgeable Chestnut Hill car crash lawyer if you were injured in a car accident in Philadelphia.
Pull Over, Exchange Information
After your crash, get your vehicle to a safe spot on the side of the road (if possible to do safely). Get the contact, vehicle, and insurance information from the other driver, and provide your own.
Pennsylvania law requires drivers to stop and wait for medical assistance to arrive after any accident involving personal injury or death. Even if no one is injured, if there is any property damage drivers are required to give their name and address and present their registration and license to the other driver(s) involved. Failing to stop and exchange information after a crash is a crime.
Call the Authorities
If anyone was injured in the accident, call 911. Even if there is no injury, you should still report the accident to the police. They will conduct an investigation, and your eventual legal claims could depend heavily on what they put in their report. Do not listen to the other driver if they try to convince you to "not get the cops involved." It is generally to your benefit to have a proper police report.
Get Medical Attention
If you need emergency medical treatment, get to a hospital as soon as possible. Even if you do not require emergency treatment, it is still important to see a doctor as soon as you can after a crash. You may have a difficult-to-detect injury such as whiplash, concussion, internal bleeding, or organ damage. Getting prompt medical treatment ensures that no latent injury is left untreated and prevents insurance companies and other liable parties from trying to avoid compensating you for your accident-related injuries.
Document the Scene
Take photos of the scene, the vehicles, and your injuries. Get contact information from any witnesses. Keep copies of any documents generated in connection with the accident, including police reports, medical reports and bills, communications with your insurance company, and others. You never know what you might need down the line to ensure you get fully compensated.
Compensation After a Sideswipe Accident
Pennsylvania is a "choice no-fault" state for car accidents. If you have a no-fault liability policy, you will first go to your insurance company for coverage and only pursue the other driver and their insurance if your claims meet certain minimum thresholds. If you have traditional fault liability insurance, you should be able to pursue the other driver directly.
Call your insurer soon after your crash. You do not need to go into full detail about the accident with your insurer in your initial call; you can just give the basics. Insurance providers are often looking for any reason to limit payouts, so it helps to wait for your lawyer to get involved and communicate with your insurer about your claims.
DEDICATED LEGAL HELP WITH A SERIOUS CAR CRASH CLAIM IN PHILADELPHIA
If you or someone you love has been injured in a car crash in Pennsylvania, you need the help of a professional and effective personal injury attorney to get the damages you deserve. Benedum Law founding attorney Christine Benedum has dedicated her career to fighting for accident victims and knows how to get her clients the compensation they deserve from those at fault. Contact an effective Philadelphia car accident victim attorney at Benedum Law in Chestnut Hill for a free consultation on your case at 215-529-7848 (215-LAWSUIT).