What Happens After an Uber or Lyft Crash in Pennsylvania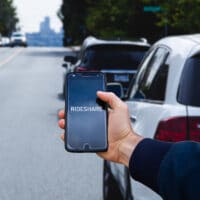 Rideshare companies like Uber and Lyft are becoming more and more commonplace, replacing standard yellow taxis and personal commutes.  While there are many benefits, including a reduction in the number of drunk driving accidents in many locales, for example, rideshare drivers are still humans, prone to negligent or even reckless behavior on the road.  If you are injured by a negligent rideshare car either as a passenger or as another driver on the road, what happens?  Who is liable?  Read on for information about what happens after a rideshare car crash, and reach out to a dedicated Philadelphia car accident attorney with any questions or if you have been injured in a traffic accident in Chestnut Hill or throughout Philadelphia.
Who is liable after a typical Pennsylvania accident?
Pennsylvania has a "choice no-fault" car insurance regime.  This means that each insurance policy can be either a fault or no-fault policy for personal injuries resulting from an accident, and it is up to the policyholder to decide when they sign up which policy to choose.  A "no-fault" policy will cover a minimum amount for injuries to the policyholder regardless of who was at fault, but the driver may be unable to recover additional damages such as pain and suffering.
After a typical two-car accident, the drivers will collect the insurance information of the other party.  Each driver will file a "third-party" insurance claim with the other's insurance company for payment.  If you have no-fault coverage, you will file a first-party claim with your own insurance.  If you have a fault policy and the other, at-fault party has a policy in an amount insufficient to cover your injuries, you will likely also collect under your own "uninsured/underinsured motorist" coverage.
Uber and Lyft have great insurance, but it does not always apply
Uber and Lyft have excellent insurance policies for accidents involving their drivers while on the clock.  Pennsylvania law actually requires them to provide liability insurance for passengers to remain licensed.  That means that if you are injured in the middle of a rideshare trip, you can file a claim with Uber or Lyft's insurance and likely get full coverage, as Uber offers drivers $1 million in liability coverage for passengers and other drivers.  If another (non-Uber) driver was at fault for the crash while you were a passenger, you can file a claim with their insurance instead, and the process will play out as described above.
The rideshare companies' policies are contingent on the accident happening while the driver was on the clock.  If an Uber driver was not using the app and was off-duty when they crashed, then that driver (and anyone else involved) must rely on the personal insurance coverage of the driver.  If the Uber driver was in the middle of a trip (any time between accepting a fare and dropping off the passenger), then Uber's policy covers.
There is also a gray area, where an Uber or Lyft driver is on duty and has logged into the app but has not yet accepted a ride.  If the driver crashes during that time period, Uber and Lyft have a smaller, "contingent" policy that generally covers up to $50,00 per person and $100,000 per accident in injury claims.  The policy only kicks in if the driver also has their own insurance; if the driver was illegally driving without insurance, then the contingent policy will not apply, and you must proceed as if the driver had no insurance.
CALL BENEDUM LAW AFTER A PENNSYLVANIA CAR ACCIDENT
For help getting the compensation you need and deserve after a Philadelphia rideshare traffic accident, or for further help in calculating a settlement value for your traffic accident or other personal injury, contact Benedum Law in Chestnut Hill at 215-529-7848 for a free consultation.