What Determines a Slip and Fall Settlement Payout?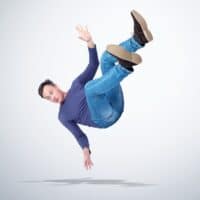 If you have been injured after a slip and fall incident on someone else's property, you might choose to move forward with a legal claim against the owner of the property you were injured on.
A majority of slip and fall incidents never make it to court and instead are finalized through a settlement. Slip and fall settlement payouts for minor injuries can range anywhere from $10,000 to $50,000, but if the accident resulted in serious harm, the value of the claim can be much higher. But what exactly determines a slip and fall settlement payout and what are some things you can expect as you move through the process?
What Is a Slip and Fall Injury?
A slip and fall injury is when an individual, through no fault of their own, gets injured while on someone else's property. While commonly referred to as slip and fall accidents, these claims don't actually require you to slip or fall. Rather, slip and fall injuries are predicated on the idea of premises liability and can include a trip and fall, being struck by an object, getting electrocuted, or otherwise suffering an injury on someone else's dangerous property.
Premises liability is the notion that the owner of a property has a responsibility to keep the property maintained so that there are no hazards or obstructions that could cause someone harm. In failing to do so, the property owner can be held liable for injuries sustained in the accident.
These injuries can be minor or they can result in something more serious. Typically, you'll find slip and fall injuries consisting of:
Soft tissue injuries
Spine or nerve damage
Brain injuries like a concussion
Shoulder dislocations
Knee injuries
Broken bones
Sprained wrists or ankles
What Causes a Slip and Fall Injury?
A slip and fall injury can be caused by a variety of things. These injuries can happen both indoors and outdoors and are typically the result of a poorly maintained facility. Most slip and fall injuries happen because of the following reasons:
Inadequate lighting
Poor maintenance
Damaged floors, walkways, and stairwells
Improper removal or drainage of snow, rain, and ice
Hazardous floor conditions including uncleaned liquid spills and loose floorboards
Hazardous areas that are left unmarked
Improper storage of equipment including tools, ladders, and other machinery
What Determines a Slip and Fall Settlement Payout?
A slip and fall settlement payout is determined by two factors: the facts of the case and settlement negotiations.
The facts surrounding your slip and fall injury and how they are relevant to the law applied in the case is the first factor that will determine your settlement amount. Different negligence laws can be applied to your case that may change the level of negligence the culpable party must answer to.
The facts of your injury will help determine who or what is to blame for your slip and fall. Establishing responsibility for the fall is one of the early steps in moving forward with your settlement claim.
Once responsibility is established, both parties will typically move forward with negotiations. Negotiating the terms of the settlement depends on a variety of factors including medical expenses for injuries sustained, lost wages because of the inability to work, and emotional distress. Once monetary damages are established, a multiplier between 1x and 5x is used to calculate non-monetary damages including your pain and suffering.
Negotiations tend to operate in the same way from case to case. Negotiations consist of how much the culpable party agrees to pay for their part in allowing the injury to occur, and how much the injured party is willing to accept.
A majority of slip and fall incidents result in a settlement. However, some cases may be brought before a judge. If a case goes to trial, the culpable party may be found in violation of other laws, or a jury could sympathize with the injury victim. Factors like these could increase your financial award, but the outcome of a trial is never certain.
How to Calculate a Slip and Fall Payment
A slip and fall settlement is usually proportional to the injury sustained. However, several factors will go into determining your slip and fall settlement payout.
Medical Bills
The more severe your injury is, the more medical care you may have received for it. The amount you have paid in medical bills is the top-most determining factor for your settlement amount. The owner of the property where you sustained your injury is typically responsible for all the medical bills associated with your injury.
Lost wages
If you have lost wages because of your inability to work, these lost wages can be calculated into your settlement amount too. Lost wages can be due to missing work because of doctor's appointments, physical therapy appointments, and time off so that you can recover from your injury.
Pain and Suffering
Pain and suffering are non-monetary damages that can have a significant impact on your settlement amount. The emotional stress after an injury can be difficult to calculate, however, the greater the stress, the higher the compensation you may be entitled to.
Is a Slip and Fall Settlement in Your Best Interest?
A slip and fall injury settlement may be in your best interest if you fear an uphill battle in proving the other party's culpability. Having a knowledgeable personal injury lawyer by your side will help you navigate the legal nuances of your case so that you can obtain a fair settlement amount. For help after a slip and fall injury in Philadelphia, call Benedum Law in Chestnut Hill for a free consultation at 215-529-7848 (215-LAWSUIT).