Unsafe Lane Changes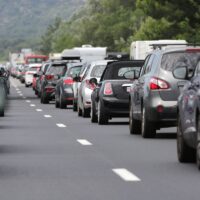 Changing lanes on a multiple-lane road is one of the more dangerous aspects of driving. Whether merging onto a freeway, moving into the fast or slow lane, passing in the oncoming traffic lane, or changing lanes for any other reason, the maneuver requires a driver's full attention and awareness. If a driver changes lanes without exercising due care, the risk of a catastrophic accident is significantly higher.
Below we discuss the risk factors associated with lane changes and how to hold an unsafe driver responsible for an accident they've caused. For advice and representation after a traffic crash in the greater Philadelphia area, call a dedicated Chestnut Hill car accident attorney at Benedum Law for immediate assistance.
What Constitutes an Unsafe Lane Change?
Changing lanes in the middle of traffic requires special care. Drivers must check all of their mirrors and any blind spots, make sure no one is in the occupied space or approaching that space, signal, and move over quickly enough to avoid interrupting the flow of traffic in either lane. Failure to take due care when changing lanes can easily lead to an accident, possibly affecting multiple lanes of traffic.
Some of the most common and most dangerous mistakes made by people when changing lanes include:
Failing to check blind spots and mirrors before changing lanes
Failing to signal before changing lanes
Moving into a spot already occupied by another vehicle
Unsafe merging
Crossing multiple lanes at once
Failing to return to the right lane after passing on the left
Passing in a no-passing zone
Moving onto the shoulder or highway merge zone
Failing to adjust speed to the new lane
Violating other traffic safety laws (e.g., speeding, texting while driving, driving while intoxicated)
Lane Changing and Liability in California
If someone violates a traffic safety rule or otherwise acts negligently and causes an accident, that driver can be held liable for any injuries and other damages that occur as a result. Holding the right party liable for the accident, however, requires proving that that driver was acting negligently or recklessly.
Drivers will, of course, try to deny liability, claiming that they did not make an unsafe lane change maneuver. Matters can become more complex when a driver makes an unsafe lane change and is then rear-ended by another vehicle; usually, the driver in the rear is held responsible for rear-end collisions.
To prevail on an injury claim involving an unsafe lane change, an injured victim may need to rely on a variety of evidence. Traffic cameras and security cameras that recorded the accident are especially helpful, as are eyewitness testimony and police reports documenting the accident. Accident reconstruction specialists can look at the physical evidence–vehicle damage, skid marks on the road, etc.–to build a picture of what happened before and during the crash.
A seasoned car accident lawyer can help you build a strong case for your injury claim, proving that another negligent driver was to blame and that you suffered serious damages as a result. Talk to an experienced personal injury attorney as soon as possible after your crash to start building your case for comprehensive recovery.
Call for Help Bringing a Personal Injury Claim After a Philadelphia Auto Crash
If you have been injured in a car accident, a slip and fall, or any other incident caused by someone else's negligence in the greater Philadelphia area, please contact Benedum Law online or call 215-529-7848 (215-LAWSUIT) for a free consultation. Our seasoned Chestnut Hill law firm works to ensure you get the medical care and compensation you need and deserve after suffering an injury due to another party's negligence.