What is Uninsured Motorist Coverage? Do I Need It?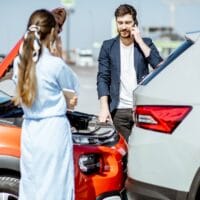 Insurance companies love to throw a variety of additional policies and coverage options at drivers, and the options can feel overwhelming. It is hard to separate out the coverage options that are actually helpful and cost-effective from policies that are more like "extended warranties"–options that sound useful but in the end may not be worth the money. Many of our clients have heard about "uninsured motorist" or "underinsured motorist" insurance coverage, but they are not clear as to how these policies work and whether they are worth the additional premiums. Read on to learn about uninsured motorist coverage, and call our knowledgeable Chestnut Hill car crash lawyer if you've been injured in an automobile accident in Philadelphia.
Pennsylvania law requires insurance, but not everyone follows the rules
Under Pennsylvania law, every driver on the road must carry a minimum amount of car insurance in case of an accident. The law requires drivers to carry at least $5,000 coverage for medical benefits, $15,000 per person and $30,000 per accident in coverage for bodily injury, and $5,000 for property damage. When someone causes an accident with another car, the at-fault driver's insurance will kick in to cover the damages to the other party.
Unfortunately, many drivers (according to estimates, as high as 13 percent of drivers in the U.S.) do not carry the mandated insurance coverage. If you are hit by a driver who lacks the proper insurance, you might wind up with medical bills, damage to your car, and other expenses, but without a good way to get those expenses covered. Drivers who lack insurance often lack the out-of-pocket cash to cover these expenses as well, so a personal injury lawsuit might not be worthwhile. This is where uninsured motorist insurance comes into play. When you are hit by a driver without insurance, your uninsured motorist coverage kicks in.
Uninsured and underinsured motorist coverage fills the gaps
Pennsylvania law requires auto insurance providers to offer uninsured motorist (UM) and underinsured motorist (UIM) coverage to drivers when they purchase their auto insurance policies. UM and UIM are optional additions to your basic coverage. They are meant to protect drivers who get into an accident with a person who lacks the proper insurance, either because their policy does not meet your damages or because they have no insurance at all. Drivers are required to sign a waiver rejecting UM and UIM insurance if they choose not to purchase. We strongly advise all drivers to get UM and UIM coverage.
UM and UIM protect you and your passengers in the event of an accident with an uninsured motorist. The policy options will cover personal injury expenses incurred by you and your passengers, up to your policy limit. UM and UIM coverage will cover the difference between your damages and what the other driver's policy will cover if they do have some insurance. UM and UIM do not cover damage to your vehicle, but you can also opt for separate collision coverage to cover repairs to your car after an accident.
GET PROFESSIONAL LEGAL HELP AFTER A CAR CRASH
If you've been hurt in a traffic accident by an uninsured or underinsured driver in Pennsylvania, you need the help of a passionate and effective attorney to get the damages you deserve. Benedum Law founding attorney Christine Benedum has dedicated her career to fighting for accident victims and knows how to get her clients the compensation they deserve from those at fault. Contact a passionate, talented, and capable Philadelphia car accident victim attorney at Benedum Law for a free consultation on your case at 215-529-7848 (215-LAWSUIT).