Know the Law and Prevent Texting While Driving in Pennsylvania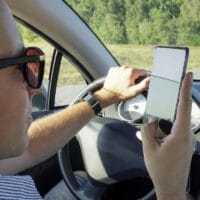 While Pennsylvania does not ban cellphone use while driving, the state does have a law that bans texting while driving. The state-wide law went into effect March 8th, 2012, and bans texting while driving when a vehicle is in motion.
The law prohibits any Interactive Wireless Communication Device (IWCD) that sends and receives text-based communication to be used while driving a vehicle. While this broad definition is widely applied to cell phones, it can also be applied to tablets, laptops, and other electronic devices that can send and receive wireless text-based communication. According to the law, the following may occur:
Police officers may pull over Pennsylvania drivers if they are texting, even if the driver has not committed a traffic violation.
Drivers may not send, read, or write text messages or emails when they are driving.
Texting while driving or sending emails while driving will incur a $50 fine.
This law supersedes and preempts any local ordinances that address texting while driving. Violations of the texting ban do not result in recorded points on a driver's license.
Preventing texting while driving
Although the state does not ban the use of cell phones while driving, the Pennsylvania Department of Transportation (PennDOT) encourages drivers to pull over if they need to use their cell phones. If drivers can't pull over to use their cell phones, there are still plenty of options available to them to keep them from texting while driving.
Allow Your Passenger to Do the Texting
If you find yourself needing to send a text or read an incoming text or email, let your passenger do the texting. Handing your phone off to the passenger in your car will help keep you focused on the road while still allowing you to have the necessary communication be sent.
Send Your Texts and Emails Before Driving
You wouldn't drive while getting dressed or brushing your teeth. The same goes for texting and driving. It can be helpful to shape your thinking in a way that requires you to prioritize sending out important texts and checking your email before you hit the road. By doing this, you will be less likely to reach for your phone and shoot off messages. This is a habit to try to get into especially if you're only traveling short distances.
Avoid Cell Phone Usage All Together
While the law does not ban the use of a GPS device or any other system or device that is integrated into your vehicle, it can be helpful to get in the habit of avoiding electronic distractions altogether.
Even if you are not texting, using your cell phone to look up directions, make phone calls, and check traffic all bring with them the same distraction that texting while driving does. When drivers pick up a phone to input a location or make a phone call, they will almost always mindlessly navigate to their text and subsequently read or send texts. One of the best ways to avoid texting while driving is by avoiding cell phone usage altogether.
Benedum Law on Your Side
If you have been the victim of an accident due to someone's negligence while they were texting and driving, you could be entitled to significant compensation for the damage done. After an auto accident in Philadelphia, reach out to the Benedum Law Firm in Chestnut Hill for a free consultation today.