5 Reasons Why You Should Have an Attorney After a Commercial Vehicle Accident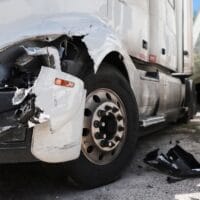 Commercial vehicles can cause serious injuries. Unlike accidents between everyday drivers, an accident that occurs between a personal vehicle and a commercial vehicle can prove to be incredibly dangerous. Commercial vehicles like semi-trucks are much larger, heavier, take longer to stop, and can cause serious if not fatal injuries when they occur.
Injuries involving commercial vehicles are very unique cases to navigate. If you are involved in an accident with a commercial vehicle, it is important to have a qualified attorney on your side to help you obtain the compensation you deserve.
Here are some additional reasons why it is important to have an attorney on your side for a commercial vehicle accident.
1. The Injuries Can Be Severe
Research indicates that 74% of all fatal passenger vehicles are involved in an accident with a large truck. In 2019, a total of 4,119 people died because of crashes involving large trucks. This is a 31% increase from the number of fatalities associated with trucks just a decade ago.
The more complex your injury is, the more complex your case may be. Some common injuries that are associated with crashes involving commercial vehicles include:
Brain injury
Spinal cord injuries including paralysis
Burn injuries
Loss of vision or blindness
Amputations of limbs
Broken bones
Death
If an accident leads to a fatality, it's that much more imperative to have a qualified lawyer on your side to help you navigate the process. The family of a deceased loved one may be entitled to significant compensation through a wrongful death claim.
If you incur severe medical injuries that involve a significant financial burden, insurance companies will push to offer a significantly lower settlement than you are entitled to, if they are willing to settle to begin with. A well-versed personal injury lawyer can help you secure compensation for monetary losses including but not limited to:
Medical bills
Lost income
Loss of earning capacity
Damage to your personal property like your vehicle
Pain and suffering
Out-of-pocket expenses
Punitive damages
2. Trucking Companies Are Well-Resourced
There are many moving pieces involved in the trucking industry. Because of this, trucking companies tend to be very well-resourced when it comes to defending themselves when accidents occur.
Attorneys representing trucking companies and associated agencies including insurance companies will almost always try to deflect blame away from themselves when an accident does occur. Advocates of trucking companies will take advantage of the complex laws that protect them. By nature, this will often cause intimidation in individuals who choose to fight a claim against a trucking company on their own.
3. There May Be Multiple Liable Parties
There are often many parties at play when a trucking accident occurs. This means there is usually more than one entity that can be held liable. The right attorney on your side can help you secure the compensation you deserve from more than just the trucking company.
The Truck Driver
Liability can extend beyond the trucking company during an accident and can fall on the truck drivers themselves. Negligent behavior on the part of the trucker can include things like distracted driving, fatigue, speeding, and impairment through the use of drugs, alcohol, or other means.
The Trucking Company
Naturally, trucking companies can be held liable for the behavior of their drivers as well. Negligence on the part of a trucking company can include everything from failure to pre-screen their drivers, a lack of adequate training for their drivers, and even a failure to follow federal and state rules related to the industry.
Truck Manufacturers or Maintenance Companies
If there is an issue with the truck itself, the company responsible for manufacturing the truck can be held liable as well. Oftentimes, this can be a defect with the truck's machinery.
The company responsible for maintaining the truck so that it is in good working order can also be held liable for negligence. If the maintenance company failed to fix a mechanical error or was negligent in their repair or maintenance of the vehicle, they could be held liable for an accident that resulted because of their failure.
The Shipping or Cargo Company
Semi-trucks are often loaded by a third-party shipping company. Issues can arise when this third party fails to properly secure the load. If a crash occurs because of issues related to the shipping load, the shipping company can be held liable.
4. There May Be Multiple Insurance Companies
Because there are multiple agencies involved in the trucking industry, if a crash occurs, all the agencies associated with the truck that has gotten into the accident will be represented by their own insurance company.
Navigating the nuances between different legal representatives and insurance companies can be overwhelming. Having a qualified attorney on your side can help you better prepare and navigate this complicated process.
5. Trucking Laws are Complex
The regulatory body for commercial carriers including trucks is the Federal Motor Carrier Safety Administration. Under this administration, there are complex rules and regulations which will impact how your case unfolds. These laws stipulate that truckers have to follow strict regulations including the following:
The number of hours a trucker is allowed to work before they take a break
Meeting the different qualifications to be a commercial driver
Regulations pertaining to inspection, repair, and maintenance of the vehicle
Regulations pertaining to insurance coverage
Regulations when transporting hazardous materials
Having an experienced lawyer on your side with an in-depth understanding of the rules and regulations which truckers must adhere to can prove invaluable in your case. Knowing how to apply these standards to your claim can be the difference between a fair and unfair settlement.
Many other factors should be taken into consideration if you find yourself in an accident with a commercial vehicle. The location of the accident, whether other vehicles were involved, and other individuals who were hurt alongside you will also factor into your settlement amount.
Get the Best Attorney to Fight for Your Commercial Vehicle Accident
Commercial vehicle accidents can be incredibly complex, overwhelming, and intimidating. The right personal injury lawyer by your side will give you the confidence, strength, and knowledge to move forward with a clear grasp of what your legal rights and options are. If you have been injured because of a commercial vehicle accident, call or email us today to explore how our services can get you the compensation you deserve. After an accident in Philadelphia, call Benedum Law in Chestnut Hill at 215-LAWSUIT (215-529-7848).