Construction Worker Killed in Accident on Pennsylvania Turnpike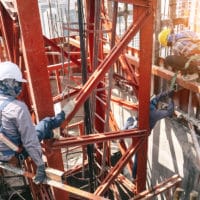 Construction is one of the most dangerous jobs in the country.  The Bureau of Labor Statistics reports that, among all occupations in Pennsylvania, the private construction industry has the highest fatality rate.  A recent fatal accident at a worksite on the Pennsylvania Turnpike provides the latest illustration of the dangers faced by construction works in the state and across the U.S. Read on for more about the accident, and contact a dedicated Philadelphia construction accident lawyer with any questions or if you have been injured on a Pennsylvania worksite.
Employee Dead After Worksite Accident on Northeast Extension of Pennsylvania Turnpike
Pennsylvania state police are investigating the death of a construction worker that occurred around 10 a.m. on a recent Wednesday.  The accident occurred on the Northeast Expansion of the Pennsylvania Turnpike, just above Lansdale, in the area of the southbound lanes of the toll road in Lower Salford Township, Montgomery County.  The deceased worker was an employee of either a contractor or sub-contractor in the construction zone.  Authorities are keeping tight-lipped about the details of the accident as they conduct their investigation, but officials have confirmed that the accident occurred within the work zone and was not traffic-related.  Authorities noted that traffic was not affected by the accident.
Construction Remains a Dangerous Occupation
Data from the federal Occupational Safety and Health Administration (OSHA) shows that construction remains an extremely dangerous occupation.  Over 20% of all workplace deaths involve construction workers.  On average, nearly three construction workers die every day in workplace accidents across the country, as of 2017.  Thirty-four of those workers were killed in Pennsylvania, according to the Bureau of Labor Statistics, translating to 8.8 deaths per 100,000 workers.  The leading cause of private sector worker deaths in the construction industry was falls, representing 39% of the construction deaths, followed by being hit by an object, electrocution, and being caught in-between two objects.  OSHA reports that fall protection at construction worksites was the single most frequent OSHA violation reported in 2018.
Call Benedum Law After a Pennsylvania Construction Accident
At Benedum Law Firm, attorney Christine Benedum is OSHA 10 certified to enhance her ability to represent construction workers and others injured due to unsafe and hazardous workplaces.  If you need help getting the compensation you deserve after a construction accident in Philadelphia, or for help in calculating a settlement value for your worksite accident or other personal injury, contact Benedum Law in Chestnut Hill at 215-529-7848 for a free consultation.