Pennsylvania Supreme Court Holds School District Liable for Child's Gym Injury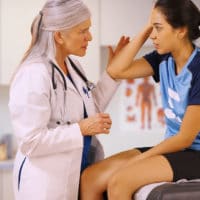 To ring in 2019, the Pennsylvania Supreme Court ruled that a school can be held liable for injuries resulting from a child running into an unpadded concrete wall during gym class. The decision (Brewington v. City of Philadelphia) is notable because it's an exception to the broad government immunity afforded to schools in many cases, and it should cause Pennsylvania schools to take further precautions to protect students from hazards during physical activity. Read on to learn more about the Pennsylvania school injury, and speak with an experienced injury attorney if your child was seriously hurt in school.
Gym Class Becomes Dangerous When Proper Safety Precautions Aren't Taken
This case arises from a 2012 incident in which a 9-year-old student at the former Walter G. Smith Elementary School in Philadelphia tripped during gym class and hit his head on an unpadded concrete wall. He sustained a concussion and, as a result, missed the last weeks of the school year. When he returned to school the following year, he suffered from ongoing memory problems, and his grades fell. In a 2015 deposition, his mother said he still had headaches and memory problems. The Commonwealth Court ruled that the mother could sue the school system for her son's injuries, sighting the real property exception to the general rule for governmental immunity under Pennsylvania's Tort Claims Act.
The Real Property Exception to Governmental Immunity
In supporting the Commonwealth Court's ruling, the Pennsylvania Supreme Court found that the mother successfully alleged negligent acts that would trigger an exception to the school district's governmental immunity. Specifically, the court said, "we find the real property exception, by its express definitional terms, includes a failure to provide safety features in situations where such a duty otherwise exists. Indeed, our case law confirms that acts of local agency which render a property unsafe for 'the activities for which it is regularly used, for which it is intended to be used, or for which it may reasonably be foreseen to be used, are acts which make the local agency amenable to suit.'"
Accordingly, the court concluded that a legal claim alleging that a school failed to pad a gym wall constitutes an assertion of a negligent act "concerning the care, custody, and control of real property, and, thus, falls under the real property exception to governmental immunity." The case is a win—not only for the victim here—but also for other Pennsylvania students who suffer injuries as the result of hazardous school property.
Experienced Philadelphia School Injury Attorney
If your son or daughter sustained an injury at school and you think hazardous school property may have been to blame, please contact Benedum Law for a free initial consultation. Our Chestnut Hill law office represents injury victims throughout the Philly metro area.