Pennsylvania Man Wins $10 Million Court Award after Philadelphia Slip-and-Fall Accident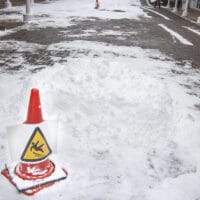 A Pennsylvania man was recently awarded $10 million in a settlement agreement after he was forced into early retirement by devastating injuries suffered in a slip-and-fall accident. Learn more about the accident and the resulting claim below, and contact a seasoned Philadelphia personal injury lawyer for help after an accident.
The plaintiff in the recent case, Michael Little, was a carpentry foreman on the site of the One Water Street building on Columbus Blvd. in the Old City neighborhood of Philadelphia. Little, 43, was a seasoned foreman who earned an annual income of over $100,000 at the time of his accident. On the morning of February 15, 2016, Little was walking through a hallway on the ground floor when he slipped on ice that had frozen over on the concrete floor and became badly injured. Earlier that morning, an employee of subcontractor Sulpizio Mechanical had accidentally punctured a water line while drilling, causing the hallway to fill with water. Due to the cold temperatures in the building, the water quickly froze over. Prior to Little's accident, an employee of First State Mechanical had been stationed in the hallway to notify passersby of the fact that the ground had frozen over. Unfortunately, that man had abandoned his post by the time Little was passing through the hallway. Little's attorneys would later come to believe that the man had left the worksite to buy opioids.
As a result of his fall, Little was forced to undergo five separate surgeries on his right leg and ankle. He must now use a cane to walk. Little also experiences complex regional pain syndrome, a condition that can afflict victims of traumatic injuries with radiating pain, increased nerve sensitivity, joint stiffness, or difficulty moving the injured limb. Despite his young age, Little's injuries forced him to retire from his profession. The injuries have not only made it impossible for Little to keep working; they have also limited his ability to complete basic daily activities. Little was unable after his fall to help care for his brother, who was suffering from brain cancer, nor serve as a pallbearer at his brother's 2017 funeral. He was also unable to help nurse his wife back to health after she suffered a heart attack.
With the help of an attorney, Little filed a claim against both First State Mechanical and the subcontractor responsible for the flooding, seeking compensation for the costs of his medical care now and in the future, his future lost earnings and the losses in his quality of life. The two companies agreed to settle the claims, with First State Mechanical agreeing to pay $8.05 million and Sulpizio Mechanical agreeing to pay $1.95 million.
Get Professional Legal Help After a Severe Personal Injury
If you've been hurt in a slip-and-fall or other accident in Pennsylvania, you need the help of a seasoned and trial-ready attorney to get the damages you deserve. Benedum Law founding attorney Christine Benedum has dedicated her career to fighting for accident victims and knows how to get her clients the compensation they deserve from those at fault. Contact a knowledgeable, effective, and compassionate Philadelphia accident victim attorney at Benedum Law for a free consultation on your case at 2015-529-7848 (215-LAWSUIT).