Multiple Tractor-Trailer Crash in Northeast Philadelphia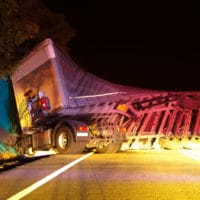 Traffic was stopped recently for several hours on I-95 after a severe crash involving two tractor-trailers.  The latest crash is part of an ongoing and worsening hazard that large trucks pose on Pennsylvania roadways.  Continue reading below for details on the accident, and contact an experienced Philadelphia auto accident attorney if you or a loved one has been hurt in a traffic accident in Pennsylvania.
Tractor Trailers Collide, Send One Through the Median
A dangerous crash occurred early in the morning around 4:45 a.m. on a recent Friday in Northeast Philadelphia.  Two tractor-trailers were heading northbound on I-95, just before Academy Road, when they collided.  The collision caused one of the trucks to jackknife and hit the median, damaging the center divide and sending chipped cement into the southbound lanes.  Luckily, there were no reported injuries, and no other vehicles appear to have been caught up in the crash.  Traffic was stopped for several hours until the trucks could be removed from the scene around 9:00 a.m.
Large Truck Crashes Pose a Serious Danger to Pennsylvania Drivers
The recent crash, while thankfully without injury, is a reminder of the dangers of large trucks.  Even at the best of times they pose a real threat to motorists.  Truck drivers are often forced to work long hours without rest and slog through back-to-back shifts.  The Federal Motor Carrier Safety Administration sets rules and regulations for the hours a trucker can operate, but these are often not stringent enough and may not be followed at all times.  When a large truck crashes, the sheer size of the truck, along with the potentially hazardous nature of the product being hauled, means that the crash will be significantly more likely to end in serious injury or death than the average car crash.
According to the 2017 Pennsylvania Crash Facts & Statistics report from the Pennsylvania DOT, crashes involving "heavy trucks" have been on the rise over the last five years.  There were 6,807 heavy truck crashes in 2017, more than a 10% increase from 2013.  Of those crashes, 145 involved fatal injuries.  The majority of those killed in truck accidents were other drivers and pedestrians, not the drivers or passengers of the trucks themselves; over 98% of crash fatalities involved others outside the truck.  If a truck driver is driving while drowsy or intoxicated, or if a trucking company fails to include the latest and best safety equipment or standards for their trucks or employees, they should be held responsible for the damage caused by their dangerous behavior.
Call Benedum Law After a Pennsylvania Personal Injury Accident
For help getting the compensation you need and deserve after a Philadelphia truck accident, or further help in calculating a settlement value for your truck accident or other personal injury, contact Benedum Law in Chestnut Hill at 215-529-7848 for a free consultation.