Who Is Liable in a Multi-Car Accident?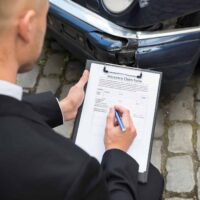 Car accidents can be complicated, but when they involve multiple vehicles, determining liability can be a particularly intricate process. Below we talk about some of the reasons accident claims in these situations can be hard to handle, and how having an injury attorney on your side can help sort things out successfully. If you or a loved one has been hurt in a multi-car accident in Philadelphia, contact Benedum Law in Chestnut Hill for a free consultation with a skilled and knowledgeable Philadelphia car accident lawyer.
Understanding Multi-Car Accidents
A multi-car accident is one that involves three or more vehicles. A multi-car collision can occur in various ways, such as chain-reaction crashes or pile-ups. The complexity arises when trying to identify the party or parties responsible for the collision.
The Role of Negligence
In Pennsylvania car accident cases, determining liability in a multi-car accident typically revolves around the concept of negligence. A driver can be found negligent if they failed to exercise the care that a reasonably prudent driver would under similar circumstances. Here are some of the most common causes of multi-car accidents:
Tailgating: If a driver is speeding or following too closely, they may not have enough time to stop before rear-ending the car in front of them. On a busy highway during rush hour or traffic slowdowns, a chain reaction crash is not unlikely to follow the initial impact.

Distracted Driving: The use of mobile phones or other distractions can cause a driver to lose focus, contributing to an accident. Distracted drivers can get caught off guard when a crash suddenly happens in front of them, causing them to get involved in a pile-up.

Weather Conditions: Slippery or wet roads can lead to multi-car collisions if drivers are not cautious. The most dramatic multi-car accidents tend to happen on icy roads.
How Liability is Determined
Determining liability after a multi-car accident is one of the most complicated parts of pursuing a claim for compensation. After a multi-car accident, a police report will almost certainly be filed. This report can include crucial details like witness statements and the officer's observations, helping to identify the responsible party or parties. Insurance companies may conduct their own investigations as well by interviewing drivers and witnesses and reviewing evidence. This information will contribute to determining who is at fault. In some cases, especially when liability is disputed, the situation may require legal expertise. Engaging an experienced Philadelphia car accident attorney can be crucial to navigating the complex process with your rights intact.
What to Do if You're Involved in a Multi-Car Accident
Seek Medical Attention: Your health is paramount, and you should go to a doctor to get checked out. If anything turns up, you'll get the treatment you need before the problem gets worse, and you'll have a well-documented connection between the accident and the injury.

Collect Information: If your injuries don't prevent it, you could help your case along by taking pictures of the scene, including damage to all the vehicles, collecting statements or contact information from witnesses, and making sure you have information on all drivers (name, phone number, insurance company and policy number).

Contact a Skilled and Experienced Car Accident Attorney: Multi-car accidents are complex, involving multiple parties and insurance companies who might argue among themselves over who is liable to whom. Don't let your claim get lost in the confusion. Consult with a lawyer to understand your rights and ensure you receive fair compensation.
Help With Multi-Car Accident Claims in Philadelphia and Chestnut Hill
Determining liability in a multi-car accident in Philadelphia can be an overwhelming process. There are several factors involved, and the process can quickly become complex., but an experienced auto accident lawyer can guide you through the process, let you know what to expect, and work to get you the care and compensation you need to deal with the harm done to you. If you or a loved one has been a victim of a multi-car accident in Philadelphia, call Benedum Law at 215-LAWSUIT (215-529-7848) for a free consultation.