How Fast Can You Go Above the Speed Limit?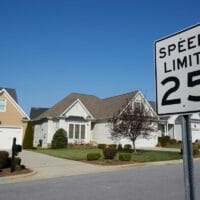 Speed limits are meant to keep the roads safe for everyone commuting. Even if limiting yourself to 65 miles per hour on the freeway feels like traveling at a crawl, that's technically the law. Many drivers have been told by friends and family that there's a sort of "grace" given to drivers who are only going a little over the speed limit, just 5-10 mph, especially in the fast lane on the freeway. Is it true that you cannot get pulled over for going only five miles per hour over the limit? What happens if you are caught speeding well over the limit? Continue reading to learn about the limits imposed on drivers, and if you've been in a wreck caused by a speeding driver in Pennsylvania, call a dedicated Chestnut Hill car crash lawyer for assistance.
What Are the Standard Speed Limits in PA?
Pennsylvania law sets the standard speed limits for different types of roads. Specific roads can be subject to specific speed limits, which should be posted clearly on the side of the roads. Certain types of vehicles (such as large trucks) may be subject to lower speed limits. Cities and towns can also impose their own speed limits on municipal roads. In general, however, Pennsylvania's Rules of the Road sets the following speed limits:
35 miles per hour for roads in urban districts
65 or 70 miles per hour for all vehicles on freeways where 65 or 70 mph speed limit has been poste
25 mph in a residential district if the road is not a numbered traffic route and is classified as a local highway
55 mph in other locations
Notably, the speed limits must generally be posted on the side of the road to be effective, other than the general 55 mph limit.
Penalties for Going Over the Speed Limit
The speed limit is just that–a limit on how fast you can be traveling on that particular road under normal conditions. If conditions are especially poor, such as if there's heavy rain, snow, fog, winds, or wet or icy roads, drivers might be expected to proceed even more slowly. While you may be justified in briefly speeding just to pass someone or avoid a hazard, you are generally limited to the posted speed limit at a maximum. Police might be unlikely to pull over and ticket someone traveling at one mile per hour over the speed limit but, technically, doing so is a violation.
The penalties for speeding vary based on just how much you were exceeding the posted speed limit. According to the statute:
Exceeding a covered 65 mph speed limit is punishable by a fine of $42.50
Exceeding any other covered speed limit is punishable by a fine of $35
If the driver exceeded the speed limit by more than five miles per hour, the driver must pay an additional fine of $2 per mile for each mile in excess of five mph over the limit
Drivers who are blazing along at 80+ mph can easily find themselves owing significant fines. Moreover, drivers who were speeding excessively–meaning traveling at more than 31mph over the posted speed limit–can face either a 15-day license suspension, a special penalty, or both. Drivers under age 18 charged with excessive speeding face a 90-day license suspension. Drivers who are engaged in flagrant excessive speeding may also face charges of reckless driving, which is a criminal offense.
Driving Record Points and Speeding: The 5mph Grace
There is some truth to the rumor that you can speed a little without facing certain consequences. When you commit a traffic violation, points are added to your driving record by the Pennsylvania Department of Transportation. Points on your record can lead to license suspension and other penalties, as well as increased insurance premiums.
If you are speeding by less than six mph over the speed limit, you will not be assessed any points. Speeding by 6-10 mph over the limit is punished with two points, while more excessive speeds are punished with additional points.
Speeding and Car Crashes in Pennsylvania
Speeding is a leading cause of car accidents in Pennsylvania. The fact that someone was speeding when a crash occurred – either exceeding the posted speed limit or driving too fast for conditions – can be used as evidence against them when determining negligence and fault. This fact cuts both ways. For instance, if you were injured in a crash caused by a drunk or distracted driver, but you were going over the speed limit at the time, you might be considered partly to blame. So long as you are not considered more to blame than the other driver, you can still recover compensation, although your reward will be reduced proportionately.
Seasoned Legal Help After a Speeding Crash in Philadelphia
If you or someone you love has been injured in a speeding-related accident in Pennsylvania, you need the help of a savvy and successful personal injury attorney to get the damages you deserve. Benedum Law founding attorney Christine Benedum has dedicated her career to fighting for accident victims and knows how to get her clients the compensation they deserve from those at fault. Contact a dedicated Philadelphia car accident victim attorney at Benedum Law in Chestnut Hill for a free consultation on your case at 215-529-7848 (215-LAWSUIT).