How Expert Witnesses Help In Car Accident Cases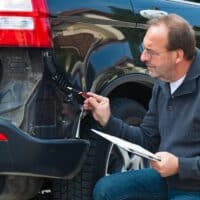 Most car accident victims are able to eventually settle their claims with the insurance company; only a handful wind up in trial and go all the way to a jury verdict. Cases that settle don't resolve themselves immediately, though, or at least they shouldn't. An insurance company's initial offer to an unrepresented party is rarely reflective of the claim's true value, if ever. An experienced and successful personal injury attorney will spend the time necessary to understand the accident victim's injuries, how it happened and who was responsible, and what the proper amount of compensation should be. Oftentimes this process requires working with expert witnesses to get the best result. Read on to learn how expert witnesses can help in car accident cases. If you've been injured in a car crash in Philadelphia, reach out to the dedicated Chestnut Hill personal injury lawyer at Benedum Law for a free consultation.
The role of expert witnesses
Most witnesses in civil cases are "fact" witnesses. They are testifying as to what they saw or what they heard, or they are validating records in their custody or possession. In some way, they are reporting on things they have personal knowledge about through their senses or experience.
Expert witnesses, on the other hand, don't have personal knowledge of the case to relate to the jury. They weren't at the scene of the accident when it happened, and most often they are not the personal physician treating the crash victim for their injuries. Instead, expert witnesses have specialized knowledge that allows them to testify about a specific aspect of the case. Expert witnesses typically have advanced education and training, years of practical experience working in their subject area, or certification from state or national credentialing bodies. Expert witnesses have to be accepted by the judge in the case as qualified to testify on the issue at hand, and it's ultimately up to the jury to decide how much weight or credibility to give to the expert's testimony.
Expert witnesses don't only testify on the witness stand, though. Their opinion might be sought in the "discovery" phase of litigation, where each party learns information about their case and the evidence the other party has or plans to present. Experts can be "deposed" during discovery, giving sworn opinions under oath and subject to cross-examination by the other side. Expert witness depositions can help each party understand the strengths and weaknesses of their case and move them toward a fair settlement.
Finally, expert witnesses might even be employed by parties before a lawsuit is ever filed. Speaking with an expert can help a party and their attorney understand important factual or legal issues in their case, which can help them decide how to fashion a settlement demand or make a counteroffer, or whether to file suit.
Types of expert witnesses in car accident cases
A car accident case might benefit from several different kinds of expert witnesses, depending on the issues in the case. Some of the most likely types of expert witnesses in an auto accident claim include:
Accident Reconstruction Experts – This expert is often a current or former police officer who has developed expertise through investigating hundreds or thousands of car accidents over the years. These experts "reconstruct" the accident by looking at physical evidence of the scene, reviewing reports, etc. They can then testify as to how the accident happened and who was at fault by opining on matters such as how fast each vehicle was going, which direction the vehicles were going in, who was driving and who was a passenger, what evasive maneuvers were taken, etc.
Medical Experts – The accident victim's injury is a common subject of dispute in a car crash claim. The insurance company will say the victim isn't really hurt very badly, or the injury came from a pre-existing condition, or it couldn't have happened in the crash. A medical expert, often a board-certified doctor or practicing physician, can be called in to opine on the injury, describing how it happened, the extent of the injury, what future medical care may be required, and what that cost of care might likely be. Medical experts might examine the patient, review medical records and reports, or both.
Catastrophic Injury Experts – If the car accident caused a catastrophic injury such as a traumatic brain injury, spinal cord injury, or loss of limb, the victim's needs and costs will be especially high. Several different experts can be useful in putting together a life care plan that details the lifetime costs of the injury. A life care plan is a guiding document for accident victims and family members, but it can also be a valuable tool for proving costs and the value of the claim to a judge or jury. Helpful experts here can include medical experts, economists, physiatrists (doctors who specialize in physical medicine and rehabilitation), or certified life care planners.
Insurance Experts – Insurance policies come with an implied covenant of good faith and fair dealing; when insurance companies act in bad faith regarding a claim, they can be liable for paying the full value of the claim plus additional damages caused by their improper behavior. Bad faith insurance conduct can include denying a claim without giving a good reason, unreasonable delay in processing a claim, or making an unreasonably low offer, for example. An insurance industry expert can be helpful to a jury in determining whether the insurer's behavior is acceptable, up to industry standards, and ethical or not.
Trustworthy Legal Help After a Catastrophic Car Crash In Philadelphia
If you or someone you love has been injured in a traffic collision in Pennsylvania, you need the help of a seasoned and successful personal injury attorney to get the damages you deserve. Benedum Law founding attorney Christine Benedum has dedicated her career to fighting for accident victims and knows how to get her clients the compensation they deserve from those at fault. Contact a zealous Philadelphia car accident victim attorney at Benedum Law in Chestnut Hill for a free consultation on your case at 215-529-7848 (215-LAWSUIT).