How Construction Accidents Can be Avoided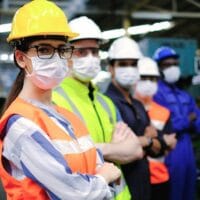 Construction is a dangerous industry, but it is more dangerous than it needs to be. Most worksite accidents could be avoided if everyone, from managers to supervisors to workers, followed all appropriate safety precautions. Below, we discuss some of the steps that any construction worksite should take to prevent unnecessary worker injury. Speak with a dedicated Philadelphia construction accident lawyer if you need help recovering after a construction injury.
Safety training & regular safety meetings
Good safety procedures come from the top down. All workers should go through mandatory safety training, getting educated about mandatory safety standards as well as likely hazards. Workers should review the health and safety policies for each job, and no worker should operate a piece of machinery or equipment without training. Safety training should be updated regularly, and the entire crew should hold regular meetings to discuss any safety concerns or bad habits.
Keep the workspace tidy
Most accidents at construction worksites are preventable. Most are not caused by a freak electrical discharge or a sudden storm. Many are caused by something as mundane as tripping over a discarded piece of wood or mislaid drill. Construction worksites are littered with hazardous chemicals and machinery, and slipping, tripping, or falling at any time can lead to serious injury or death. Cleaning up spills, storing tools after each job, and scanning for any discarded materials should be a regular practice at any worksite.
Scan the work area for hazards every day
Safety is an ongoing job. Every day, before the workday begins and regularly throughout the day, workers should be on the lookout for any new hazards that may have arisen. Equipment can break, wires may become exposed, wind and snow can knock down a tree or loosen scaffolding. Constant vigilance saves workers' lives.
Maintain all equipment and tools
Even when everyone is being careful and doing their job the right way, equipment in disrepair can lead to a catastrophic accident. Old, rusty ladders and other equipment past its prime should be replaced. Machinery should be oiled, maintained, and constantly checked for any loose nuts or other possible issues. Well-maintained tools keep workers safe.
Use proper safety gear
As obvious as it may seem, it bears stating and repeating: Safety gear saves limbs and lives. Construction involves the use of a variety of dangerous, heavy machinery, and there is a constant risk of falling objects or other hazards causing injury. Gloves, helmets, masks, steel-toed shoes, vests, safety suits, and other safety gear should be employed at all times. All personnel should be trained in the proper use of safety equipment, and supervisors should monitor workers to ensure their compliance with safety measures.
GET HELP RECOVERING AFTER YOUR PHILADELPHIA CONSTRUCTION INJURY
If you or a loved one has been hurt on a construction worksite in Pennsylvania, you need assistance from a passionate and effective construction accident attorney to get the monetary recovery you are owed. Benedum Law founding attorney Christine Benedum has dedicated her career to fighting for accident victims and knows how to get her clients the compensation they deserve from those at fault. Contact an effective and trial-ready Philadelphia construction accident victim attorney at Benedum Law for a free consultation on your case at 215-529-7848 (215-LAWSUIT).