What Are the Distracted Driving Laws in Pennsylvania?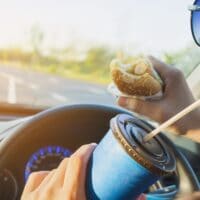 Distracted driving is dangerous. It is rapidly overtaking drunk driving as the biggest danger on the road. According to the Pennsylvania Department of Transportation (PennDOT), more than 15,000 crashes statewide were connected to distracted driving in 2017. The most prevalent type of distracted driving is texting while driving, or otherwise using text-based communications on smartphones. Anything, however, that takes a driver's attention off of driving, eyes off the road, or hands off the wheel can constitute distracted driving. Pennsylvania has laws prohibiting distracted driving. Violators face fines and other penalties, and they are more readily liable for any injuries they cause with their distracted driving. To learn about Pennsylvania's distracted driving laws, read on. Call an experienced Chestnut Hill car crash lawyer if you were injured in a car accident in Philadelphia.
Pennsylvania's Texting-While-Driving Ban
Pennsylvania has enacted a ban on texting while driving. More specifically, the law prohibits any driver from using an Interactive Wireless Communication Device (IWCD) to send, read or write a text-based communication while his or her vehicle is in motion. The law defines an IWCD as a cell phone, a personal digital assistant, a portable computer, or any similar device that can be used to instant message, browse the internet, or email. "Text-based communications" include emails, instant messages, chats, texts, or other written communications.
Violators are subject to a $50 fine for conviction, plus court fees. There are no points as a penalty for a violation, and for non-commercial drivers, it will not be recorded on the driver's record. Commercial drivers will have a non-sanction violation.
The law does not apply to GPS devices or other systems integrated into the vehicle. The law does not prohibit texting while the car is not in motion (for example, when the car is at a stoplight or sitting in a traffic jam).
Additional laws banning the use of hands-free devices while driving are working their way through the legislature but have not been signed into law to date.
Daniel's Law and Criminal Sanctions
In 2016, Governor Wolf signed "Daniel's Law," which enhanced the penalties for texting while driving that results in serious injury or death. If a driver causes serious bodily injury by texting while driving, they face a two-year jail sentence. If a driver causes a crash that kills someone because they were texting while driving, they face a five-year jail sentence.
EXPERIENCED LEGAL HELP WITH A SERIOUS CAR CRASH CLAIM IN PHILADELPHIA
If you or someone you love has been injured in a distracted driving crash in Pennsylvania, you need the help of a seasoned and trial-ready personal injury attorney to get the damages you deserve. Benedum Law founding attorney Christine Benedum has dedicated her career to fighting for accident victims and knows how to get her clients the compensation they deserve from those at fault. Contact an excellent Philadelphia car accident victim attorney at Benedum Law in Chestnut Hill for a free consultation on your case at 215-529-7848 (215-LAWSUIT).