Can I Sue the Government After a Crash on a Dangerous Road in Philadelphia?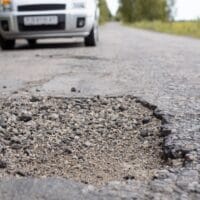 Not all car crashes are caused by the negligent actions of a distracted, tired, or drunk driver. Car accidents can be caused by a variety of factors, and not all are the fault of any one person. Accidents may even be caused by a dangerous or defective roadway. If you were in a car crash because of a dangerously-designed intersection or because a road was poorly maintained, can you sue the government agency responsible for that road? Continue reading to learn about lawsuits against the government and contact a knowledgeable Philadelphia car accident lawyer with any questions or for help after an accident.
Sovereign Immunity
Sovereign immunity is a long-standing principle of law in the United States. The principle establishes that federal, state, and local governments are immune from lawsuits unless they choose otherwise. The government can waive its immunity and permit a lawsuit. Pennsylvania has waived immunity for state and local government agencies for personal injury lawsuits under very specific circumstances, including certain dangerous roadway conditions.
Suing the Government for a Defective Road
Pennsylvania law establishes that an injured party can sue a state or local government agency after an accident caused by certain roadway defects. The plaintiff must prove that a governmental entity was responsible for designing or maintaining the roadway in a safe condition, that the entity failed in its duty, and that that failure caused the plaintiff to suffer harm. Under the Political Subdivision Tort Claims Act, an injured plaintiff may sue a local government for injuries relating to the government's duty concerning, among other things:
● Dangerous street conditions
● Dangerous sidewalk conditions
● Dangerous hazards relating to improper care or control of trees, traffic controls, or street lighting
● Dangers created by real property in the control of the government
Pennsylvania also authorizes suit against the state on similar grounds. There are special requirements and limitations for lawsuits against the government. For example, the injured party must give the government written notice of their claim within six months of the injury, and damages are limited to a certain dollar amount as well as certain types of damages. A knowledgeable Pennsylvania car accident attorney can help you adhere to the specific requirements for a government lawsuit and ensure that you do not miss out on any available claims or damages.
GET PROFESSIONAL LEGAL HELP AFTER A CAR CRASH
If you've been hurt in a traffic accident in Pennsylvania, you need the help of an experienced and passionate attorney to get the damages you deserve. Benedum Law founding attorney Christine Benedum has dedicated her career to fighting for accident victims and knows how to get her clients the compensation they deserve from those at fault. Contact a compassionate, talented, and effective Philadelphia car accident victim attorney at Benedum Law for a free consultation on your case at 215-529-7848 (215-LAWSUIT).