Most Common Construction Accidents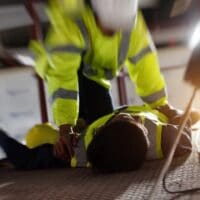 Construction is a dangerous industry. As many as one in five of all private industry workplace fatalities happen in construction, as well as thousands of serious injuries every year. Read on to learn about the most common construction site accidents, and call a passionate Philadelphia construction accident lawyer if you need help seeking compensation after a worksite injury.
Falls from height or scaffolding
Construction workers often must work on scaffolding and ladders, on roofs and windows, or otherwise at extreme heights. When a ladder is not secure, scaffolding is loose, or some other accident occurs, workers can easily tumble several stories. More than a third of all construction worksite deaths result from falls from heights.
Stuck or caught in-between
Construction worksites are filled with heavy equipment, materials, and machinery. It is easy for a worker to either get stuck in a piece of heavy machinery, or for an object to slip, slide, or fall and trap a worker's limb or body between two heavy objects. Serious injury and limb amputation are common injuries that result.
Struck by object
One of the leading causes of traumatic brain injury to construction workers is being struck by rolling, flying, or falling objects. Whether from a scaffolding, a staircase, or an unsecured part of a building, workers are at risk of being struck in the head or other body parts at all times.
Electrocution
Construction workers are constantly exposed to high-powered machinery and electrical wiring in the process of being installed. Whether due to a lack of gloves, an exposed wire, a defect in a piece of machinery, or some other cause, workers commonly suffer electrocution injury.
Vehicle accident
Construction sites are often located on or near roads while civilians pass by or through. Construction sites also often need trucks, cranes, and other vehicles to transport goods or move heavy objects. Construction workers are at high risk for being hit by such a vehicle, or otherwise being involved in a traffic accident.
Slips, trips, and falls
Construction sites are littered with uneven surfaces, loose debris, unsecured railings, chemical spills, and other flooring hazards. Workers commonly slip, trip, or fall on-site and are injured as a result.
Fires and explosions
Construction deals in dangerous equipment and chemicals. Chemicals are flammable, electrical wiring is often exposed, and equipment can malfunction. When something goes wrong, an explosion or fire is liable to break out, severely injuring workers.
PROFESSIONAL LEGAL HELP WITH YOUR CONSTRUCTION ACCIDENT CLAIM
If you or a loved one has been hurt on a construction worksite in Pennsylvania, you need the help of a seasoned and dedicated attorney to get the damages you deserve. Benedum Law founding attorney Christine Benedum has dedicated her career to fighting for accident victims and knows how to get her clients the compensation they deserve from those at fault. Contact an effective and trial-ready Philadelphia construction accident victim attorney at Benedum Law for a free consultation on your case at 215-529-7848 (215-LAWSUIT).