What Are Common Burn Injuries and Their Causes?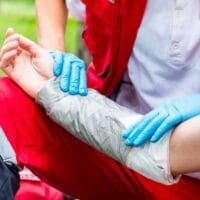 Severe burns are among the scariest and most painful injuries a person can suffer. They commonly lead to permanent scarring, functional limitations, and require extensive treatment. Burn injuries can occur in many ways, often due to the negligence of employers, product manufacturers, and other parties. Below we discuss some of the more common causes of burn injury. Call a dedicated Chestnut Hill burn injury lawyer if you suffered a serious burn in Philadelphia.
Fire and Flame Injury
Nearly half of all burn injuries in the country are caused by direct exposure to fire or flames. Any number of accidents involving explosion or fire can lead to a serious burn injury. Defective home appliances or vehicles can burst into flame upon use. Serious car accidents can lead to explosions and fires. Industrial sites such as factories, oil fields, and construction sites often house combustible or flammable products that can ignite with a spark. Home fires can occur when candles or fireplaces are left unattended, when there is a gas leak, or when there's a pilot light malfunction.
Chemical Burns
Chemical burns can occur when a person's skin is directly exposed to dangerous, corrosive chemicals. Common in factories and on construction sites, chemical burns are regularly caused by acids, bases, oxidizers, solvents, thinning agents, cleaning agents, and other toxic chemicals. Chemical burns to the eyes, skin, and internal organs are very common in these industries.
Electrical Burns
Inadvertent contact with exposed electricity can lead to a severe burn. Electrical burns can occur when a person comes into contact with an exposed wire or electrified water, or when mishandling machinery. Electrical burns are commonly suffered by factory and construction workers, as well as victims of defective product incidents.
Scalding Injury
Scalding refers to a burn caused by contact with a hot liquid or from the steam rising from a hot liquid. Scalding commonly occurs, for example, when a food product is overly heated and retains hot steam until an unsuspecting customer takes a bite, releasing scalding steam into their face. Extremely hot liquids such as overheated coffee or soup can lead to scalding as well, especially when doled out in containers that lack protection. Construction workers, factory workers, and other employees in dangerous industries may also suffer scalding injury when directly exposed to steaming industrial liquids and chemicals, such as molten metal. Around a third of all burn injuries are tied to scalding incidents.
Smoke Inhalation
Where there's fire, there's smoke. Victims of house, apartment, office, or other building fires commonly suffer damage to their lungs from inhalation of too much smoke, especially if they are stuck inside for an extended period. Too much smoke inhalation can be fatal. Asphyxiation in house fires is a common cause of death every year.
YOU HAVE THE RIGHT TO RECOVER AFTER A PHILADELPHIA BURN INJURY
If you or someone you care about has suffered a serious burn in Pennsylvania, you need the help of a professional and experienced personal injury attorney to get the damages you deserve. Benedum Law founding attorney Christine Benedum has dedicated her career to fighting for accident victims and knows how to get her clients the compensation they deserve from those at fault. Contact a passionate Philadelphia burn injury victim attorney at Benedum Law in Chestnut Hill for a free consultation on your case at 215-529-7848 (215-LAWSUIT).