Common Bicycle Accident Injuries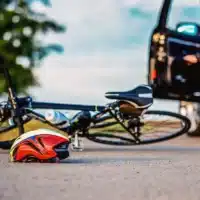 Bicycle accidents happen every day on American roadways. While most accidents are minor and avoid serious medical complications or life-changing outcomes, too often victims suffer catastrophic injury and even death. According to the Centers for Disease Control and Prevention, bicycle trips make up only one percent of all trips across the nation, however, bicyclists account for 2% (or roughly 1,000 people) of all deaths following a motor vehicle accident. Additionally, well over 130,000 individuals are injured every year because of bicycle accidents involving motor vehicles.
If you have suffered severe injuries and losses following a bicycle accident, you may be able to pursue legal action against negligent parties. By holding a negligent party responsible, you can recover compensation for your medical treatment, pain and suffering, and other losses. At Benedum Law, our experienced personal injury attorneys are here for you when you need help the most. Contact our team today to schedule a free consultation on your case.
Who Is More at Risk for a Bicycle Accident?
According to the CDC, certain groups may face a higher risk of being involved in a bicycle accident than others. These groups include the following individuals:
Adults ranging in age 55 to 69 are more likely to be involved in a bicycle accident that results in death.
Young adults, teens, and adolescents have the highest rate of bicycle-related injuries.
Roughly 1/3 of all bicycle-related injuries that are seen in emergency rooms are for patients aged 10 to 24.
Male bicyclists have a death rate six times greater than female bicyclists and an injury rate five times greater than female bicyclists.
An estimated 64% of bicyclist deaths occur away from intersections while 27% occur at intersections. The high death rate is typically associated with bicyclists who are riding on roadways where motor vehicles are traveling at a high rate of speed.
Motorists or bicyclists who are under the influence account for 1/3 of crashes in a bicyclist's death.
Bicycle accidents are more likely to occur in urban areas.
Most Common Types of Bicycle Accident Injuries
Individuals who are involved in a bicycle accident will typically suffer injuries in their lower and upper extremities. Fortunately, many of these injuries are minor and require minimal medical intervention with no lifelong complications. Common types of minor bicycle injuries include the following:
Contusions or bruising
Abrasions
Lacerations and other minor cuts
Strains and sprains
Fractures
Road rash
Head Injuries
Head injuries are another type of bicycle accident injury individuals may suffer, with potentially devastating consequences. Head injuries can range from mild to severe and occur in an estimated 22% – 47% of bicycle accidents. An estimated 60% of bicycle accident-related deaths are the result of a head injury.
Wearing a helmet is one of the most important ways an individual can reduce their risk of a head injury by 65% – 88%. The use of a helmet is effective for riders of all ages. Unfortunately, even with a high-quality helmet, head injury can and does occur in a serious crash with a motor vehicle.
Face and Eye Injuries
These types of injuries are associated with contusions, facial fractures, and corneal foreign bodies impacting an individual's face and eyes. The severity of these injuries ranges from mild to severe, and wearing a helmet can greatly reduce the risk of a face or eye injury.
Musculoskeletal injuries
These injuries affect the bones, muscles, tendons, or nerves of an individual. Pain associated with these injuries can vary and can affect specific regions or the entire body. Depending on the injury, an individual can suffer for a defined period or might face more chronic long-term pain.
Abdominal Injuries
Abdominal injuries include the rupture of internal organs, pancreatic trauma, contusion of the small or large bowels, ruptures, traumatic hernia, broken ribs, and other injuries in the abdominal region. These types of injuries can often be severe, but they vary depending on the way an individual is struck and what part of their abdomen is impacted.
Soft Skin and Tissue
Impressions such as road rash, contusions, and bruising are more often associated with mild bicycle accident injuries. Despite being minor, they still require medical care to avoid further issues like infection or scarring.
What to Do After a Bicycle Accident
If you have been injured after a bicycle accident because of someone else's negligence, you may be entitled to compensation for your injuries, pain, and suffering. At Benedum Law, our legal team is committed to helping victims of bicycle accidents recover compensation for their injuries and other damages.
Our team can help you hold responsible parties accountable and guide you through the process so that you can exercise your legal rights and options. Reach out to our team today to learn more about how you can get the help you need following a bicycle accident.