What Are the Car Seat Laws in Pennsylvania?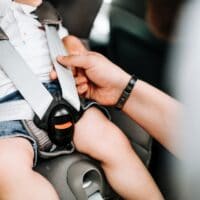 It may come as a surprise to some, but child car seat laws are not uniform across the country. Different states have different rules about the ages children still need to use car seats, how they must be secured, and what types of vehicles may be exempt from those rules. Child safety is of utmost importance, and we strongly recommend following any and all safety requirements concerning child restraints. Continue reading to learn how Pennsylvania approaches the regulation of child seats, and speak with our seasoned Philadelphia car accident lawyer if you need help seeking compensation after a crash.
Pennsylvania's Child Car Seat Rules
Pennsylvania law sets different requirements for car restraints for different age groups of children. According to the Pennsylvania Department of Transportation (PennDOT), the rules are as follows:
● Up to age two. Children under age two are required to ride in a rear-facing child car seat in the back of a vehicle until the child outgrows the maximum height and weight limits designated by the manufacturer of the car seat.
● Ages two to four. Children under age four must be securely fastened in a state-approved child safety seat but can be seated anywhere in the vehicle.
○ PennDOT recommends keeping children in a rear-facing seat for as long as possible until they reach the height and weight limits indicated by the car seat manufacturers.
● Ages four to seven. Children up to age eight must ride in an appropriate booster seat when riding anywhere in a motor vehicle. The same rule applies whether the children sit in the back seat or the front passenger seat.
○ PennDOT recommends keeping a child in a forward-facing car seat with a harness until they reach the top height or weight limit of the seat, and then switching to a booster seat. They also recommend keeping children under age eight in the back seat to avoid the dangers of an airbag deployment, but that is not required by law.
○ Federal regulations define a "booster seat" as a backless child restraint system or a belt-positioning seat.
● Ages eight to 17. Pennsylvania law also requires children ages eight to 17 to use a seat belt.
○ PennDOT recommends keeping children in a booster seat until they are large enough to fit a seat belt properly. They also recommend keeping children in the back seat for as long as possible.
Violating a child traffic safety law or other seat belt law is a primary offense in Pennsylvania. Police can pull over a vehicle and cite the driver without having another reason to stop the car, such as speeding or some other moving violation.
GET PROFESSIONAL LEGAL HELP AFTER A CAR CRASH
If you or your child has been hurt in a traffic accident in Pennsylvania, you need the help of a passionate and effective attorney to get the damages you deserve. Benedum Law founding attorney Christine Benedum has dedicated her career to fighting for accident victims and knows how to get her clients the compensation they deserve from those at fault. Contact a professional, dedicated, and trial-ready Philadelphia car accident victim attorney at Benedum Law for a free consultation on your case at 215-529-7848 (215-LAWSUIT).