What are the Different Types of Car Accidents?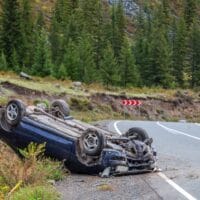 There are many different types of car accidents. A variety of factors goes into which type of accident will occur, including the type of vehicle involved, the behavior of the drivers, and the driving conditions at the time of the crash. While some types of crashes are more deadly than others, any traffic accident can lead to serious or even fatal injury. Below, we explore the most common types of car crashes. Call a dedicated Chestnut Hill car crash lawyer if you were injured in a car accident in Philadelphia.
T-Bone Crashes
A T-bone, broadside, or side-impact crash occurs when one vehicle's front collides with the passenger or driver side of another vehicle. These types of accidents typically occur at intersections, often when one car runs through a stop sign or red light. These types of accidents are commonly caused by distracted drivers who miss the appropriate traffic signal and fail to stop or yield as appropriate. T-bone crashes are extremely dangerous, often leading to catastrophic injury or death for either the driver or front-seat passenger, depending on which side is struck.
Head-On Collisions
Head-on collisions are likely the most deadly type of car crash. A head-on collision occurs when the front ends of two vehicles collide with one another. Head-on collisions typically occur when one vehicle drifts or swerves into the oncoming lane of traffic. A driver may move into oncoming traffic either deliberately in a dangerous attempt to pass a slower vehicle without sufficient space, or accidentally due to intoxication, drowsiness, or distraction.
Head-on collisions make up a small portion of the overall number of crashes but a significantly higher proportion of traffic fatalities. Head-on collisions are rarely minor, often leading to serious injury or worse.
Rear-End Collisions
A rear-end collision occurs when the front end of one vehicle hits the back end of another. Rear-end collisions are the most common type of traffic accident. Rear-end collisions are common in parking lots and garages, as well as in circumstances where the roads are wet or icy due to inclement weather. They may be caused by tailgating, panic stopping, driver distraction, or otherwise failing to remain vigilant due to inclement conditions. Even a minor rear-end collision (a "fender-bender") can lead to painful injuries including whiplash and concussion.
Sideswipe Accidents
Sideswipe accidents occur when one vehicle swipes another, side to side. Sideswipe accidents can occur due to an improper lane change, or when one vehicle drifts into another lane of traffic due to distraction, intoxication, or drowsiness. At high speeds, a sideswipe collision can lead to a serious crash involving multiple vehicles.
Rollover Crashes
A rollover crash occurs when one or more vehicles roll over such that the topside ends up colliding with the road. The National Highway Traffic Safety Administration (NHTSA) estimates that more than 280,000 rollover accidents occur every year. Some types of vehicles are more prone to rolling over, including large trucks, buses, and even large SUVs. Rollovers can occur in single-vehicle crashes or after a collision with another vehicle. Rollover accidents are extremely dangerous and often fatal, particularly if the vehicle rolls over multiple times due to high speeds or severe impact.
SEASONED LEGAL HELP WITH A SERIOUS CAR CRASH CLAIM IN PHILADELPHIA
If you or someone you love has been injured in a traffic crash in Pennsylvania, you need the help of a dedicated and talented personal injury attorney to get the damages you deserve. Benedum Law founding attorney Christine Benedum has dedicated her career to fighting for accident victims and knows how to get her clients the compensation they deserve from those at fault. Contact a qualified Philadelphia car accident victim attorney at Benedum Law in Chestnut Hill for a free consultation on your case at 215-529-7848 (215-LAWSUIT).