How to Avoid Being Hit by a Drunk Driver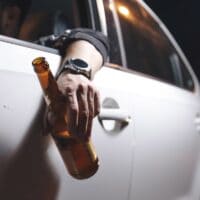 Drunk drivers are dangerous to more than solely themselves: They are a danger to everyone else on the road. If you are driving, it is vital to be vigilant for possible drunk drivers and to act accordingly. There are a few good habits to keep in mind to limit the risk of exposure to a drunk driver for yourself and your family. Read on for tips to avoid drunk driving accidents, and call a seasoned Chestnut Hill car accident lawyer if you or a loved one has been hurt by a negligent driver in Philadelphia.
Avoid Driving Late at Night
The rate of drunk driving crashes is three times higher at night than during the day. The vast majority of drunk driving crashes happen after 9:00 P.M. Limit driving at night where possible, especially driving between midnight and 5:00 A.M., to limit your exposure to drunk drivers.
Limit Driving on Holidays
Holidays, especially drinking holidays such as July 4th, New Year's Eve, Super Bowl Sunday, and St. Patrick's Day, see higher rates of drunk driving and drunk driving accidents than the rest of the year. Do your best to avoid driving on these holidays, especially at night. If you must travel, plan ahead to avoid being in busy areas during high-traffic areas.
Drive Defensively
Being a good driver involves more than keeping your hands on the wheel; it requires being constantly vigilant of everything else on the road. Do not assume the cars around you are being driven by precision professionals. Check your mirrors regularly and watch out for any signs of drunk driving: swerving, erratic behavior, changing lanes without a signal, sudden stops and starts, etc. Do not assume that, for example, just because a driver has not activated their turn signal that they may not suddenly change lanes or turn left. The more alert you are while on the road, the more likely you are to avoid or lessen the damage from an accident caused by a drunk driver.
Keep Your Car Well-Maintained
If you are exposed to a drunk driver, having a well-maintained vehicle can be the difference between life and death. Get regular maintenance to ensure that your brakes, tires, engine, and steering wheel are all functioning properly. You may be able to avoid a wreck entirely when your car is in working order, whereas if your brakes fail or your tires are worn, you could wind up in a crash even though you noticed the danger in time to react.
Report Suspicious Driving Behavior
If you see someone on the road at any time of day or night who is driving erratically, report it to the authorities. Try to make a note of the car's make, model, and color, as well as the license plate where possible, although you should not take your attention off the road to do so. Reporting a drunk driver can save your life, the lives of others on the road, and even the drunk driver and their passengers.
Do Not Tolerate Drunk Driving By Your Friends or Family
If you are out with friends or family and someone is getting ready to drive after having too many drinks, say something. Do not get in the passenger seat when you know the driver is intoxicated, and even if you aren't getting into the car, it is worth speaking up. There are always other options, such as calling an Uber or Lyft, taking public transportation, or waiting at least a few hours before getting on the road.
GET PROFESSIONAL LEGAL HELP AFTER A CAR WRECK
If you've been hurt in a traffic accident by a drunk driver in Pennsylvania, you need the help of a dedicated and capable personal injury attorney to get the damages you deserve. Benedum Law founding attorney Christine Benedum has dedicated her career to fighting for accident victims and knows how to get her clients the compensation they deserve from those at fault. Contact a professional, talented, and capable Philadelphia car accident victim attorney at Benedum Law for a free consultation on your case at 215-529-7848 (215-LAWSUIT).