Accordion-Style SEPTA Bus Crashes Into Philadelphia Home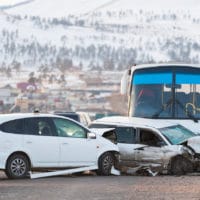 One of the more bizarre but dangerous accidents on Philadelphia roadways in recent memory occurred this February when an accordion-style SEPTA bus crashed into a home in North Philadelphia.  The accident was one of several that happened just after the recent snowfall.  Numerous bus crashes occur across the state every year, posing serious risk to other drivers on Pennsylvania roadways.  Read on for details on the SEPTA Bus crash, and contact a seasoned Philadelphia bus accident attorney if you or a loved one has been hurt in a bus accident in Pennsylvania.
Bus Loses Control and Hits North Philadelphia Home
An accordion-style Southeastern Pennsylvania Transportation Authority (SEPTA) Bus was traveling in North Philadelphia at around 1:45 a.m. on a Monday in February, just after a heavy snowfall, when the driver suddenly lost control.  The commuter bus jackknifed and crashed into a home located at 21st and Diamond Street.  There were two passengers in the SEPTA bus at the time.  One female passenger suffered a leg injury and was taken to a nearby hospital following the accident, reportedly in stable condition.  There were five people in the home at the time of the accident, including two adults and three children, though thankfully none were injured.  The family was forced to leave their home after the crash, however, as authorities determined the accident had left the home structurally unsafe.
Authorities are still looking into what led to the accident.  They noted that there was light snowfall at the time, creating a slippery condition which may have contributed to the crash.  There were numerous other accidents in the region also connected to the slippery road conditions, including a crash involving a double tractor-trailer carrying cleaning material that shut down traffic on the Pennsylvania Turnpike between Reading and Morgantown.   
Bus Crashes in Pennsylvania
Bus crashes are more common than many people realize, accounting for around one percent of Pennsylvania motor vehicle crashes.  Bus crashes are particularly dangerous because of the increased risk of harming a large number of people and the likelihood of flipping.
Crash figures for buses across Pennsylvania have hovered around the same level over the past few years, but they may be much higher than people think.  According to data from the Pennsylvania Department of Transportation (DOT), there were 371 injuries from school bus crashes in the state in 2017, leading to four fatalities, down from 449 injuries in 2016 but up from the five-year-low of 296 in 2015.  2017 levels are comparable to 2013 levels, when there were 397 injuries resulting in five fatalities.  Adding commercial buses to the mix, there were 543 bus crashes that led to injury in 2017, 10 of which involved a fatal injury.  The DOT noted that no bus passengers were killed in bus crashes between 2013-2017; all of those fatally injured were either bus drivers or other people outside of the bus, including occupants of other vehicles and pedestrians.
Call Benedum Law After a Philadelphia Personal Injury Accident
For help getting the compensation you need and deserve after a car accident, bus accident or other motor vehicle accident in Philadelphia, contact Benedum Law in Chestnut Hill at 215-529-7848 for a free consultation with an experienced and successful Pennsylvania personal injury lawyer.